Note: Pls be attentive check whether our led size suit for your light housing.
Application: Headlight Dual Beam/Headlamp High Low Beam
Interchange Part Number: 9007
Other Part Number: 9007, HB5
Specification:
Color: 6000K-6500K White

LED Type: 2--Luxeon-MZ High Power LED

Actual Lumen: 4500 Lumen each one(9000lm 1 Set/2pcs)

Working Voltage: 12-24V DC

Input Current : 2.3A±4.5A

Beam Angle: 360°

Material Heat Dissipation: Copper

LED Chip: high power LED chip

Light Ring can be detachable our of the light (this GIF Picture show the details)
Advantages compared to Halogen & HID bulbs:
Fast ON/OFF, NO "warm up"

Energy Saving, much less power consumption

NO UV Radiation. NO disturbing Interference.

No Ballast, safe for driving

Legal Installation. No Worries for State Law.
Feature:
Efficient heat dissipation, Enhance lighting efficiency.

Perfect design bulb for replacing dull yellowish stock halogen bulb and upgrading headlight!

Maximized 360° beam angle, enhance 30% of effective range compared to halogen lamp

Waterproof level: IP65

Dissipating heat high efficiency and perfect

Joints: Waterproof joints for stable and high performance, plug & play

Drivers: Internal constant current CPU, over-heated protection

User Manual included, easy to install
Attention: 
25W low beam lights: Power Requirements ≥50W (ie DC12V, the supply current ≥4.5A); (Ie DC24V, the supply current ≥2.3A);
If the power supply can not meet the above conditions, the driver does not work (voltage will be pulled down), thus simultaneously in 3 to 5 seconds is not removed power related components on the drive will be damaged.
Note: It is recommended to use the car battery (DC12 or DC24).
Package Includes:
2 x LED Lights

2 x Drivers

1 x Manual

How To Install:
1, Remove the dustproof cover.

2, Unlock the bracket and take out the halogen bulb.

3, Screw off the bayonet on light body first, then put the bayonet on the openings and lock the bracket.

4, Install the main body, rotate it clockwise. Position can be fixed each 90°

5. The arrow on heatsink fins points to the same direction as the LED emitting surface. The arrow on H4 must be upward when installation.

6. Connect the cables accordingly, then fix the driver in appropriate place.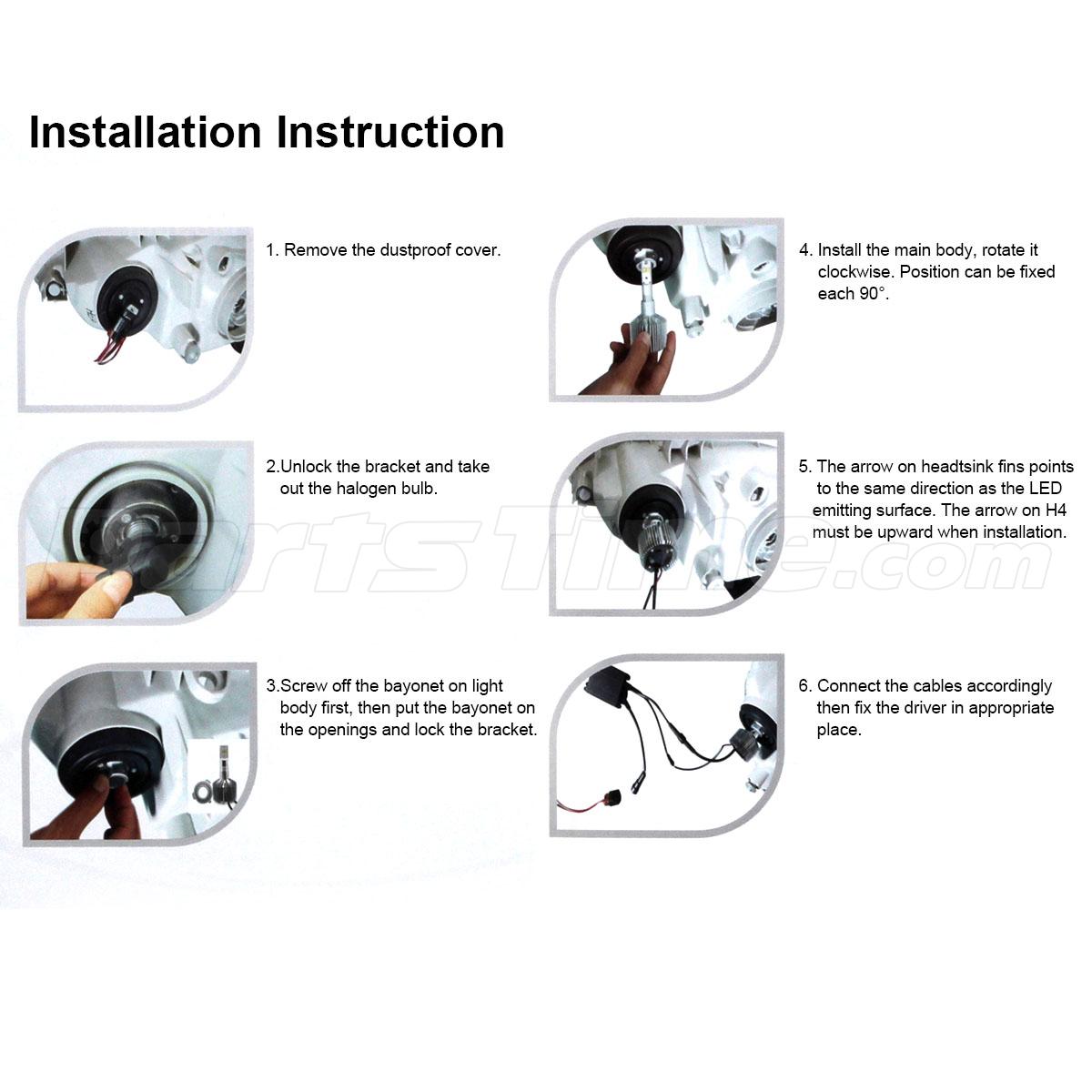 Supplementary Instruction
Please note that you should adjust the screw on bayonet adaptor to an appropriate position when installing the headlight to a fixture with a dustproof cover, such as H1, H3, H4, H7 models.

The self-lock spring screw on bayonet had been adjusted to the appropriate position in factory. But you can also adjust the focus length with the offered Allen driver according to the specific models. It is just tight enough when the self-lock spring screw enters into the slot and generates "KA KA" sound while rotating the light body. Don't deadlock the screw.

You need to drill the opening of dustproof cover to 19-20MM if its diameter is less than 18MM.

You can deadlock the spring screw after the adjustment of focus length for some models such as 9005, 9006, H8, H11 and so on.

The arrow on heatsink must be upward when you are installing a model with high/low beam function, such as H4, 9004, 9007 models.